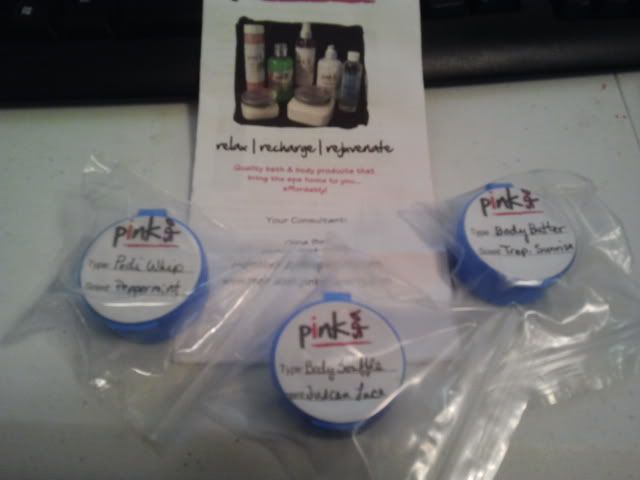 Pink Spa by Gina
www.facebook.com/PinkSpabyGina
reginabell@pinkspaparty.com
I received my samples from Regina Bell who sells Pink Spa Party! I was very excited for this package as it has a couple wonderful samples in it! When I checked my mail box this is what I saw.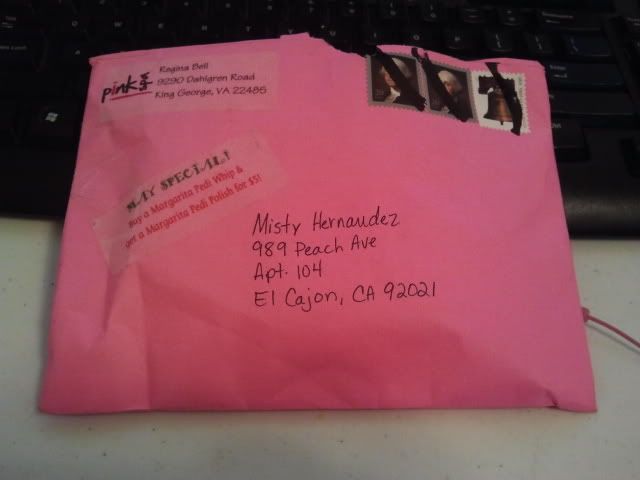 Very cute is it not? I love the presentation, the pink envelope, and how it just catches your attention! When the envelope was opened there were three samples for me, and a brochure with other products.
I loved that Regina included a brochure that explained every product she has to offer. The samples I received was a body souffle in the scent of "Tuscan Lace", a Pedi Whip in the scent of "Peppermint", and a Body Butter in the scent of "Tropical Sunrise". Being me, I have already smelled each product, and I must say they smell very scrumptious! My hands and my feet are beyond softer. I love the smell of Tuscan Lace the most. I must say it has a very romantic sensual smell to it! I would recommend these products to everyone. Not only are the products amazing, but they have a product to suit everyones needs.
I will tell you what each product is for, copied from the brochure I was given.
Body Souffle: The Body Souffle has a pearlescent luster that appears to be thick and whipped cream-like. Although it feels light and fluffy, the Souffle still provides a luxurious and nurturing experience. It revitalizes the skin by enhancing its firmness and elasticity, proving a youthful look and feel. The Body Souffle leaves an invisible layer on your skin that absorbs quickly without leaving your skin tacky or greasy.
Body Butter: Whipped body butter is a light and fluffy hydration cream that penetrates deeply into the skin delivering advanced moisture to overly dry and cracked skin. So smooth it's like applying cake frosting to the skin. Body Butters form a protective barrier over our skin to protect us from dry air, hot sun and cold winter weather.
Pedi Whip: Pedi whip is a light, fluffy hydration cream that softens and delivers advanced moisture to dry skin. This product is to be applied to your feet to restore the moisture in your feet after soaking.