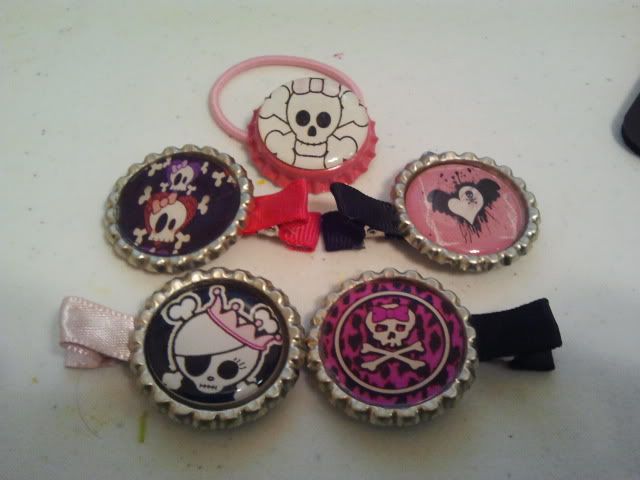 LoLe's Giggles
www.facebook.com/lolesgiggles
lolesgiggles@gmail.com
I was playing my first ever Facebook game, which was being done on LoLe's Giggles page. She had many games going on! I must admit, they were very fun and addicting. I won the option of 4 clippies of any bottle cap image of my choosing. All I simply said to this woman was "Make it skulls." I must admit, after I sent that message to her I was quite nervous about what I would receive.
I received my images about 5 days later after the games and after I paid for postage. When I received my gift I found a wonderful assortment of skull images, and a free pony tail O thing. The images were very cute, very crisp images. I loved each of them as I pulled them out of the yellow bubble mailer. In the mailer was also her business card with its cute owls! I must admit, business cards having cute images really draw me in! If the business card is boring, how do they expect to keep your interest.
The clippies are very durable, they do quite fine in my hair when I use moose. They stay in my fine hair when I leave it straight. The clippies are not overly childish so they look ok in my hair and even my puppies hair as well.