www.ResinObsession.com
cindy@resinobsession.com
As I began my journey into the Resin world. I ran across this amazing website at www.resinobsession.com, and I must say it is quite the "one stop shop spot"! I found everything that was needed right there on her web store. ResinObsession carries 4 different types of resin, numerous molds, mold release sprays, colorants, and the site even has tutorials. Honestly, I don't think this site needs any improving. Perhaps a few zombie molds. But thats just me!!! =]
I received my molds all wrapped tightly in purple tissue paper. It was quite the cute surprise. However I was missing a mold, and received a piece of paper that explained my mold was on back order. I was quite annoyed but I waited a week. I finally e-mailed Ms. Cindy and she said it will be delivered the next day! I was very excited and even skipped to the mail box. There it was, my amazing new mold! Once again it was packaged in a cute purple tissue paper and looked so cute. However Ms. Cindy added some extra goodies in my package. I must say, she is amazing and has a great shop. If your looking into Resin as a art medium, check out this site!!
Here are a few of my charms made from her molds, and her amazing samples she gave me.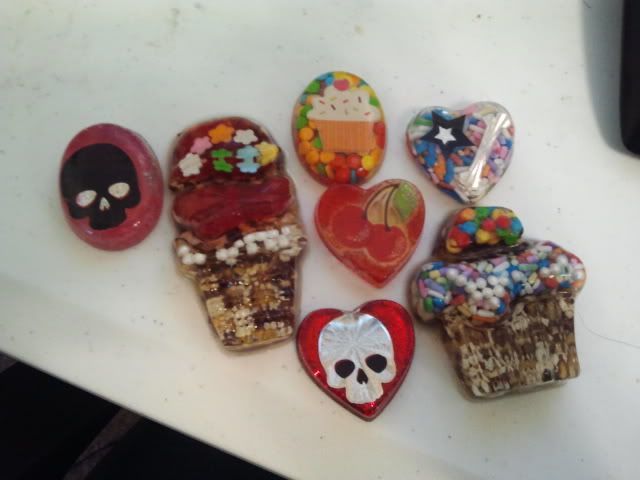 Go check her site out, and enjoy!! =] Maybe tell her you saw her on this blog!