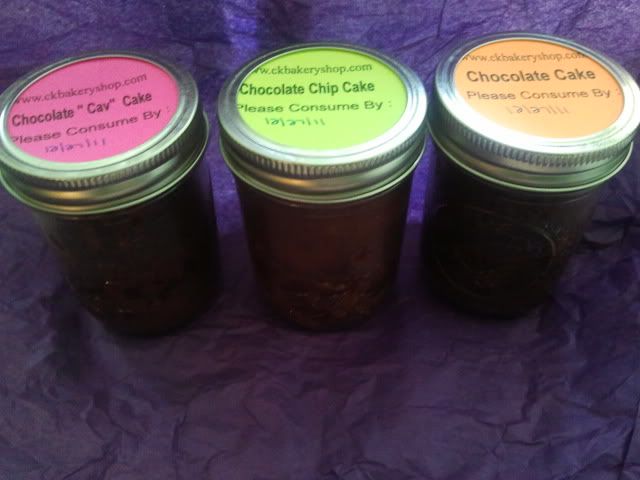 CK Bakery Shop
www.facebook.com/CkBakeryShop
2templedogs@gmail.com
As it may seem, I tried to book the month of July reviews for mostly food shops! This is because, this month is my birthday. So tonight I am so excited to take my first bite of a jar cake from a dear friend who owns CK Bakery Shop. First, let me tell you a little about this business. The owner is a Military wife, and a dedicated baker. She decided to bake cakes in a mason jar, for a business. These cakes are sweeping the country! Let me tell you! She has shipped to many of our military members who are currently deployed. Thats right! These men can get cake in a jar, and its quite a hit! The cake has a long shelf life, i'm talking super long. Mine don't expire till 12/27/11. Oh yeah, thats amazing! They are baked to order, packaged safely in a flat rate box, and shipped to your home. She has some amazing flavors, but apparently she wanted to send me nothing but chocolate! A woman's dream come true.
I received Chocolate Cake, Chocolate Chip Cake, and Chocolate "Cav" Cake. By the end of this review I might be super hyper and have plenty of typo's. So bare with me. Here is a photo of the inside of the jars.
So the first one i'm eating is the Chocolate Cake. Probably best served with a nice cool glass of milk. But I have koolaid. I must say, the mixture is not bad at all! The chocolate cake is a very moist cake. Surprisingly it is not sticky, and shipped very well. The flavor is simply amazing! Its so chocolaty, moist, and could be an amazing bed time snack.
The second up is the Chocolate Chip Cake. I was personally excited for this one, since chocolate chip cookies are my weak point. If this woman ever makes cookies in a jar, i'm going to move in with her. Just saying. Well the Chocolate Chip Cake kind of tastes like a moist cookie, the cake part that is. It is very moist, but not sticky at all. Its not very spongy but its firm. When you get a bite with the chocolate chips in it, its quite amazing. It truly tastes like a cookie cake. I give this a 2 thumbs up.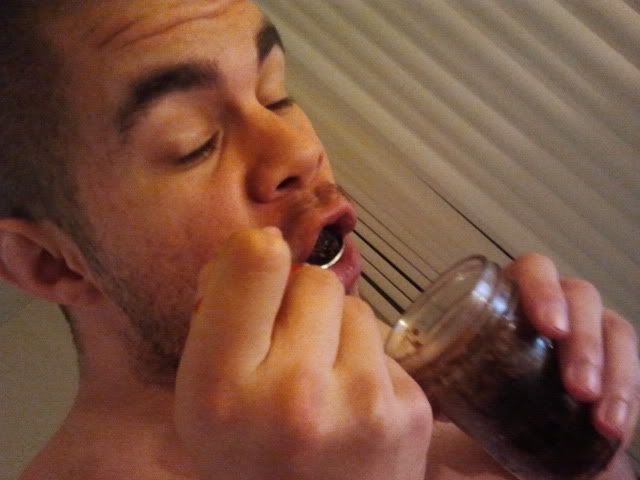 Sadly I was unable to sample the third cake due to an allergy. I did not inform the business of my allergy by mistake. The Chocolate "Cav" Cake actually has peanut butter in it. Sadly, i'm allergic. However that did not stop my boyfriend from digging in. He did grab a glass of milk, a spoon, and took the jar! I think this photo explains his review of it. It smelt amazing, but he seriously went to town with it! Men so cute when they get all excited for baked goodies?
If you want to mail a special Military person a gift, or a care package speak to CK Bakery Shop! She even has a Red White and Blue cakes. She is a true Military Wife, and is an amazing baker. Her cakes are very affordable. A Large Jar of cake is $4.00!! A small jar, like the one my boyfriend is eating is only $2.00! You could afford to send your loved one at least four different cakes! Get in contact with her, say you were referred by me, Misty!